AmpLIFEi HapiNss Brands Biome iX ADK Product Information

The first product of its kind that hacks your system to get gut healing SCFAs into your GI tract for an amplified sense of wellbeing.



The secret ingredient is Tributyrin.



Tributyrin is three butyrate molecules attached to a glycerol molecule, and that glycerol backbone allows the butyrate to get to the colon where it is needed.



Butyrate is a short chain fatty acid (SCFA) produced in the colon from undigested portions of vegetables (aka fiber). SCFAs, including butyrate, are produced by friendly gut bacteria and are the main source of energy for the cells lining your colon.



Due to increased consumption of highly-processed, low-fiber foods rich in sugar, lower levels of butyrate are increasingly observed in the large intestine. Therefore, butyrate supplementation holds potential as a means to improve gut health.


Order Biome iX ADK -
Watch this Gut Health Biome iX Video
Check Out These Peoples Stories and Testimonials
What Is HAPInss Brands?
HAPInss Brands was created to provide people with the latest technological advances in health and wellness, specific to amplifying the state of well-being, also known as happiness.

It is also a Home Business Marketing company that offers you the ability to make even more money.

Health, Wellness & Happiness Lives In The Gut
95% of your serotonin (the happy hormone) is produced and lives in your microbiome.
Stress, diet and any number of external elements are effecting your health and wellness.
Your gut health is a direct result of the elements, which in turn affects your state of well-being. Poor gut health can lead to headaches, bloating, brain fog, and inflammation.
Leaky Gut Syndrome is real and impacts millions of people. When you have a leaky gut, the toxins and bad bacteria are literally leaking into your bloodstream, leading to poor overall health and well-being. In many cases, leaky gut may have been going on for years or even decades on the inside of one's GI tract.
The good news is, you can potentially start healing from the inside out.
Hemp Helps Health & Wellness Suggests Many Known Studies Sleep issues, headaches and more seem to be aided with the consumption of CBD oils.
The human body contains a specialized system called the endocannabinoid system (ECS), which is involved in regulating a variety of functions including sleep, appetite, pain and immune system response.
The body produces endocannabinoids, which are neurotransmitters that bind to cannabinoid receptors in your nervous system. CBD, the non-psychoactive component of the cannabis plant, is a phytocannabinoid. Similar to endocannabinoids produced within the body, phytocannabinoids interact with cannabinoid receptors to create a series of therapeutic effects.
Studies have shown that CBD may help reduce chronic pain by impacting endocannabinoid receptor activity, reducing inflammation and interacting with neurotransmitters.
Amplifying the state of wellbeing, also known as happiness.
Product Details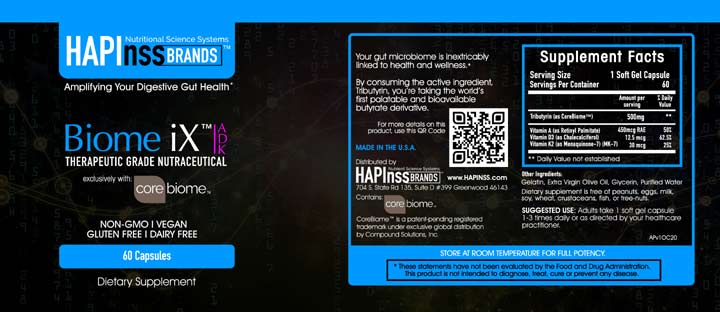 How to Use:
Adults take 1 soft gel capsule 1-3 times daily or as directed by your healthcare practitioner.
In compliance with the FDA/FTC regulations of the supplement industry, BIOME IX has not been evaluated or approved to diagnose, treat, cure, or prevent any disease. We are prohibited from speaking directly about specific disease conditions. Due to the extremely high volume of inquiries from our clients, it is not possible for our doctors, formulators or scientists to respond to individual health inquiries. We recommend that you refer to your healthcare provider to discuss your specific health concerns and the role of BIOME IX in your health.

How you can benefit working with my team.
Because getting involved in a home business is going where you can benefit the most from the people you align yourself with. I personally am a 25 year veteran in this industry with 25 years internet marketing experience and over 22 years full time experience working from home. My enroller is also a top performer in this industry with even more experience than myself.
I myself have been a top recruiter in 4 different companies.
Why should this matter to you?
Because I have the experience to help you enroll people. Plus you will see additional advantages on the home business page below.
See more on the home business page including the comp plan.