During the market crash after the BREXIT announcement, the CoolTrade robo traders all over the world did exactly what they were designed to do –LOAD UP at the bottom.
Plus we have some testimonials for you below.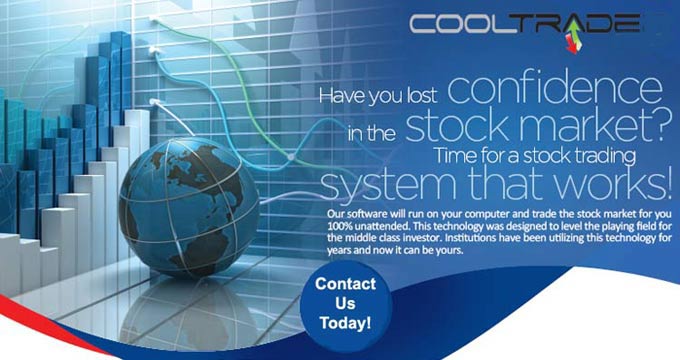 During the market recovery this week, the traders again did what they were designed to do, take as much profits as they could get from a stock trade.
While the rest of the world was panic-selling, the CoolTrade robo traders were:
Automatically managing portfolios to reserve funds for bottom buying,
Finding the most active stocks,
Buying low, riding the stocks up, and taking profits.
With CoolTrades new default ACTIVE STRATEGIES and MOST-ACTIVE-STOCKS indicators, buying and selling activity increased in the wake of the volatility.
In one word, it was SWEET!
CoolTrade Testimonials
Robert Sadigur – Belle Mead, New Jersey
I started using CoolTrade about 2 months ago and was very skeptical at the beginning. Listening to BREXIT VOLATILITY speak about the whirlwinds of the stock market made sense as I had most of my money in mutual funds for years going nowhere. It's hard to believe that with Ed's system, you could earn anywhere from 3% to 10% on a monthly basis. So, I gave it a shot and transferred my money, which was in an IRA account, to Autoshares. It couldn't have been easier.
Following the advice of Ed, I decided to spend $400 and buy my own computer dedicated to CoolTrade. You don't have to do it but I'm not computer savvy enough to do it on my other one. Ed helped me set up the system and I went simulated for 2 weeks and was pleased with the results. Went live and made 3.9% on my first month. and doing the same for the following 2 weeks. If you do the math and constantly do 3.9% each and every month, you'll end with slightly less than 50% profits for your investment for the year. Anyone out there doing better than that?
Please understand that I was skeptical, nervous, not good at setting this system up as CoolTrade had to guide me step by step by step.
Constantly emailing Jared in technical support, who is fantastic at his job and he gets back to me within 24 hours…..usually much less. Not computer savvy at all. So, if I can do this, so can you!
Now, I just can't wait for the day to start and see how it ends and how much money I've made. Some days, the market conditions are perfect for this system and I do great. Other days I do ok to good, but make money almost every day.
I highly encourage you to seriously consider doing this. It's only been 2 months but I'm pumped and making money. Ed is a good and honest man and wants to help others.
If you're on the fence (like I was) then give it a shot but go into simulator until you're comfortable with the system and understand it better.
Dr. Dan Fortunato – West Palm Beach Florida
I would like to thank you for bringing Cool Trade into my life. It not only has given me 70% profits over a 14 month period but it has given me something more valuable and that is RELIEF!
While I am working at my practice, it is also working for me all day, everyday of the week, and all I do is watch the results at the end of the day. Presently I own 2 active licenses, and one of my sons owns his own license and now my brother also owns a cool trade license.
In closing, all people can benefit from Cool Trade, but especially the older guys (like myself, who haven't managed to save enough) and the younger guys who want to build enormous wealth for the future.
Thanks again, Dr. Daniel Fortunato
Steve Mckinney – La Mesa, CA
I purchased 2 licenses to trade against both my cash account and my individual retirement account. I'm in the process of purchasing a 3rd license for my in-laws because it has proven to make consistent profits in my investments accounts.
I'm currently trading live in one account and simulated in another account testing additional strategies.
The biggest benefit for utilizing the software is living abroad in a location where internet connectivity is not great it allows a way to trade online on a VPS provider located in the states that provides remote access from anywhere in the world.
Our primary goal for this software is to build on our savings to provide enough capitol for a home purchase. We also are using the software to expand on retirement savings that previously was not earning any positive returns through under-performing mutual funds.
CoolTrade has outperformed our expectations and with continued consistency on the profits being made will put us far ahead of our future financial goals. We are definitely happy we found and purchased this product and use it with great confidence that we will get what we paid for.
Anyone can benefit from the product as long as that stick with the proven strategies that user's have developed over the many years. I would tell any user on the fence about purchasing the product to research and watch the many video available online that show the power and flexibility of the product that explain how easy it is to use. Then they can make an informed decision on whether to invest.
Best regards,
Steve McKinney
For More info On CoolTrade – Click Here!
Click Here to get a special deal on CoolTrade-   Note: After clicking on the link click on the Buy Now button at the top of the page.
Here are some other blog posts that show the power of how this awesome S/W works.
Cool Trade Robotic Trading S/W A User Perspective – Click Here!
Stock Trading Report Showing the Power of CoolTrade Robotic Trading S/W – Click Here!
Save