New Gut Health Duo Pack –

Includes 2 Biome iX™ ADK, and a Large 90 Servings HapiTides™!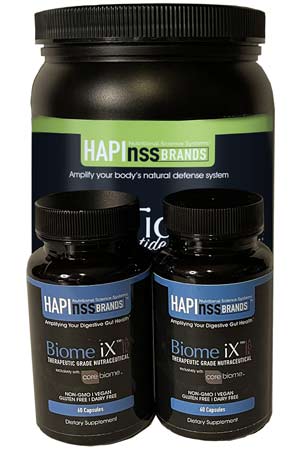 The next great movement in gut health is POSTBIOTIC. Pre and pro biotic is yesterday's news. Today it's about postbiotics, the next generation of microbiome health*.

HIGHLIGHTS of HapiTides by Dr. Michael Epitropoulos
Over 20 years of thousands of Scientific studies, University trials and field research have concluded the use of Nucleotide Supplementation provides the following benefits:
1. Increased resistance to bacterial and viral infections
2. Acceleration of antibody production
3. Increase in the number of neutrophils
4. Increase in the number of macrophages
5. Reversal of malnutrition and starvation-induced immunosuppression
6. Increase in natural killer cell (NK) activity and interleukin-2 production
7. Modulation of T-cell responses toward type 1 CD4 helper lymphocytes and TH1 cells
8. Increase in plasma HDL cholesterol
9. Decrease in concentration of LDL cholesterol
10. Accelerated recovery from injury and improved endurance and athletic performance
11. Reduction in inflammatory markers
12. Improvement of Gut Health by:
a.) Converting bad bacteria to good bacteria thus increasing number of both prebiotic and probiotic bacteria
Plus more:
Order AmpLIFEi HapiTides Nucleotide Fiber Drink
Order the Biome IX ADK Triad Pack- Click Here  (For Best Price)

More on the Biome IX Gut Health Product – Click Here!
Also Check out HapiNss Amped Up Coffee – Click Here!
Order AmpLIFEi HapiNSS Products Click Here!
Legal Disclaimer: In compliance with the FDA/FTC regulations of the supplement industry, our products have not been evaluated or approved to diagnose, treat, cure, or prevent any disease. We are prohibited from speaking directly about specific disease conditions. Due to the extremely high volume of inquiries from our customers, it is not possible for our doctors to respond to individual health inquiries. We recommend that you refer to your healthcare provider to discuss your specific health concerns and the role of Our products in your health. HAPInss Brands uses the highest quality ingredients in our product formulations.