I have some more Independence reviews of the CoolTrade Robotic Stock Trading S/W.  Plus I have a trade report showing the CoolTrade S/W doing well in the Brexit volatility.
CoolTrade Trade Report with Brexit – Click Here!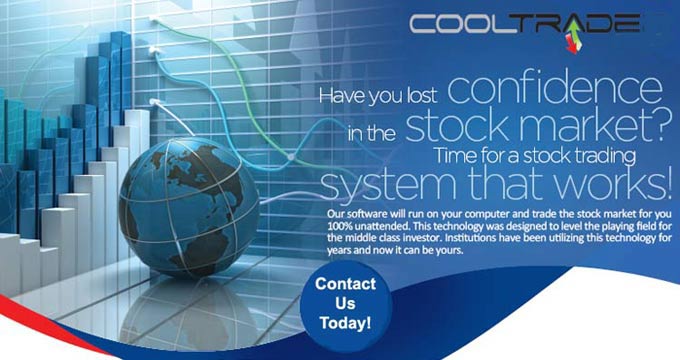 ---
Jacob Gregg – Anacortes, WA
I have been a CoolTrade user since Jan 6 2016, I went live as soon as my account was funded with Autoshares that week. It took me a few weeks to get used to the software, eliminating the difficulty of complex strategies and simplifying as much as I could. As I changed things around, I am now making more in 1 day than I used to make in a week! I am running 1 trader live and bought another one for simulating.
My main goal by using CoolTrade was to replace my "job" as a Union Journeyman Electrician. I got hurt several years ago and wanted to replace the good money I used to make working. Even though this year has been rough in the market, I have still been able to make roughly 50% ROI in less than 6 months and this was before the "Most Active Trades List" even existed, which should greatly improve my performance from now on. By the end of the year I won't have to worry about working anymore. I cannot say enough good things about CoolTrade. I have already brought in 4 of my friends who are all making money, and 4 more friends and family members working on funding their accounts soon! I wish I had known about CoolTrade 3 years ago, I'd be practically retired by now!
I recommend that anyone who is looking to either supplement or completely replace their current source of income, this is definitely the way to go. With realistic expectations and a decent account balance they can literally have their lives changed in just a year. Most of the economic experts say we have another 2-3 years before another major recession, so now is the time to get in, build your accounts up to take that ride to the bottom and climb it all the way back up again, and get rich while everyone else is scared about job security.
I always tell my friends that are either on the fence about buying CoolTrade or need to scrape up some more money before they get in, that every day they wait they're losing money. Get a second job, deliver pizzas for 3 months, sell your old junk on Ebay, whatever it takes to get in and get going, thats what you need to do. My personal saying is "once you get in the game, it's game over".
Whether you're working, playing, sleeping, or on vacation, CoolTrade is making me money day after day, week after week, and month after month.
---
Marty Meyer – Findlay, Ohio

When I first heard about Cool Trade's automated trading software it sounded interesting, but I really didn't know what to expect. All I knew was that people were having success with it. So, I went ahead and bought it and gave it a try. With the help of Cool Trade's educational videos and their technical support team, I was able to learn the (auto trader) software in no time.
To my amazement, after just a couple months of running live I was making 12% return a month (that's 144% a year) on my money! I was so astonished at the results, that I went a head and bought 3 more auto traders. I am currently in month 7 of having Cool Trade and am getting the same strong monthly returns regardless if the market is up or down.
What's great about Cool Trade is not only does it make me tons of money, it also runs automatically. The fact that I can go to work, go on vacation, or do whatever it is that I have to do, and can let my auto traders run all day by themselves, is just awesome. I just love coming home and looking at the profit report to see how much Cool Trade made me that day! This software is seriously fun and so easy to use that anyone can be successful with it.
---
Neal Hammond – Longview, WA

Less than 1 year into Cool-Trade and I'm proudly up to 3 licenses as of June 10th, 2016. Simulating with 2.
I have 1 license live right now for the last 4 1/2 months with $50,000 from my old employer's 401k plan that wasn't earning much and I was no longer contributing to. Now, my short term plan is to move the remainder of the 401k into another license (now that I'm excited about my results and understand how this works) and get that money working for me. That will leave me with 1 license left which I'll simulate with. My plan now is to accumulate cash and build up a reserve of non 401k, 457, or other retirement tax restricted money so I can get that into a trader.
Financially, short term, I've seen a gain of $9,000 or 18% in less than 5 months. My anxiety has lessened about my future, I'm no longer stressing about money and now I'm dreaming again. I've met some of the nicest, giving people that are funny and awesome to know and hang out with.
I've learned that you don't have to know everything about it for it to work. You can just plug it in get a few things set up and let it roll.
My original goal was to take $50,000 from 19 years of work at my old employer that was frozen in a Fidelity 401k program and see if I could actually get it to earn money. I've tried myself with various stocks and mutual funds, had my almost son-in-law try his Warren Buffet strategies by buying value stocks, etc. — to no avail.
In less than 5 months, CoolTrade has already helped my $50,000 hit that 1 year goal of 18% return. It's on track to blow that out of the water, I'm guessing at least 35% annually if not more. If it wasn't for this software, I wouldn't have been able to get that money to grow. The stock market just wasn't cutting it and if I had it all in a Money Market or Bonds, it would have only grown just a little bit more than inflation at 3-5% which isn't much.
Being Happy with the results is an understatement. I'm so excited that I have to try not to think of it after 8pm or I have a hard time sleeping at night by the excitement and possibilities this software is going to bring to myself, my family and to create beyond that in making a legacy for my kids and their kids, etc.
I feel that someone who is fed up with the cruddy performance of their money whether it be in their retirement accounts, cash accounts, etc. — if you honestly are aware of your earnings and would like to no longer have those feelings forever then this is for you. Honestly, being an Accountant, I believe this software is for everyone. Then I have to remember that not everyone is seeking a better return, some folks are just fine or don't even care.
I believe that most folks are afraid to talk about retirement or money like it's taboo! It really shouldn't be as the alternative is not good for not planning. If you don't want to be 1 of the 80% that are living below the level of poverty at age 65 then this is for you.
If someone was on the fence about whether to purchase a license or not, I would you say to them:
Dear friend, what is holding you back? I understand, and I'm guessing it's either a "Fear" or it's the "Unknown" or perhaps both? Anyway, if you had concerns and was on the fence I'd imagine you would need do to your research or perhaps ask to talk to someone who was using the software. I have a feeling, if you were able to make it an to event to meet Ed and everyone involved you wouldn't be on the fence any longer. So, my main suggestion is get to an EVENT! See it, feel it, ask questions, listen to what is shared, hear the personal stories.
---
Steve Mckinney – La Mesa, CA
I purchased 2 licenses to trade against both my cash account and my individual retirement account. I'm in the process of purchasing a 3rd license for my in-laws because it has proven to make consistent profits in my investments accounts.
I'm currently trading live in one account and simulated in another account testing additional strategies.
The biggest benefit for utilizing the software is living abroad in a location where internet connectivity is not great it allows a way to trade online on a VPS provider located in the states that provides remote access from anywhere in the world.
Our primary goal for this software is to build on our savings to provide enough capitol for a home purchase. We also are using the software to expand on retirement savings that previously was not earning any positive returns through under-performing mutual funds.
CoolTrade has outperformed our expectations and with continued consistency on the profits being made will put us far ahead of our future financial goals. We are definitely happy we found and purchased this product and use it with great confidence that we will get what we paid for.
Anyone can benefit from the product as long as that stick with the proven strategies that user's have developed over the many years. I would tell any user on the fence about purchasing the product to research and watch the many video available online that show the power and flexibility of the product that explain how easy it is to use. Then they can make an informed decision on whether to invest.
Best regards,
Steve McKinney
---
For More info On CoolTrade – Click Here!
Click Here to get a special deal on CoolTrade-   Note: After clicking on the link click on the Buy Now button at the top of the page.
Here are some other blog posts that show the power of how this awesome S/W works.
Cool Trade Robotic Trading S/W A User Perspective – Click Here!
Stock Trading Report Showing the Power of CoolTrade Robotic Trading S/W – Click Here!
Save